OWS's Rolling Jubilee -- One Year Later
post by: Ray Duray November 13, 2013
The Guardian has the story:

Rolling Jubilee spent $400,000 to purchase debt cheaply from banks before 'abolishing' it, freeing individuals from their bills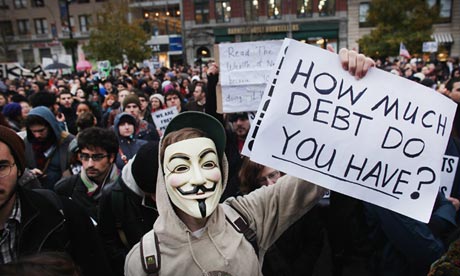 A group of Occupy Wall Street activists has bought almost $15m of Americans' personal debt over the last year as part of the Rolling Jubilee project to help people pay off their outstanding credit.
Rolling Jubilee, set up by Occupy's Strike Debt group following the street protests that swept the world in 2011, launched on 15 November 2012. The group purchases personal debt cheaply from banks before "abolishing" it, freeing individuals from their bills.
By purchasing the debt at knockdown prices the group has managed to free $14,734,569.87 of personal debt, mainly medical debt, spending only $400,000.
"We thought that the ratio would be about 20 to 1," said Andrew Ross, a member of Strike Debt and professor of social and cultural analysis at New York University. He said the team initially envisaged raising $50,000, which would have enabled it to buy $1m in debt.
"In fact we've been able to buy debt a lot more cheaply than that." MORE

tags: ows, rolling jubilee, debt | permalink | Show/Add Comments
---
Can anyone be this incompetent by accident?
post by: Ray Duray November 5, 2013
Oregon is the featured failure in this NPR segment on the on-going health insurance fiasco.

by Kristian Foden-Vencil
As the federal government consumes humble pie over failures in the health insurance exchanges, some states that have set up their own exchanges are also struggling. Oregon has yet to enroll one single person, and it's been reduced to pawing through paper applications to figure out eligibility.
When Cover Oregon opened Oct. 1, executive director Rocky King was excited. He'd been preparing for years. "Day one, we are accepting applications. And staff at the Oregon Health Authority and Cover Oregon are ready to process those applications," he said on opening day.
Back then, King conceded there were still glitches with the , but he said that by mid-to-late October they'd be worked out. Now it's November, and it's clear that a quick fix is not in the cards. So Cover Oregon has turned to old-fashioned paper applications. People can either download one off the website, or have somebody walk them through it.
NPR made a request to visit a call center to see the process but was turned down for security reasons.
Instead, spokeswoman Amy Fauver explained how it is working. "We have on our website right now a place where people who just want to wait, who just want to do it electronically, can give us their e-mail address, and we will e-mail them when the system is fully functional," she said. [Continues at website...]

tags: oregon health care, coveroregon.gov, healthcare.gov | permalink | Show/Add Comments
---
Russell Brand Raves On
post by: Ray Duray November 2, 2013
More anarchic anti-establishmentarianism from the irrepressible Russell Brand.

tags: russell brand, lee camp, hugo boss, awards ceremony, nazis | permalink | Show/Add Comments
---
Occupy Finance Takes on Jaime Dimon
post by: Ray Duray October 31, 2013
She's back. Marni, that is. The wonderful woman who is giving Occupy Finance (and and a fake Jaime Dimon) a real kick in the pants.

She showed up midday outside the Hyatt, where The Economist's annual finance and economics conference was taking place, toting inflatable Jamie Dimon and giving passerby the opportunity help the CEO "repent for his sins" by buying a copy of the Occupy Finance book, with whom, BRB/Roller Girl/BBB/EFF/NN collaborates.
***
Here's the pitch on the Occupy Finance book offer.
***
tags: occupy finance, jpm, jp morgan, jaime dimon, dealbreaker. marni | permalink | Show/Add Comments
---
Tales From The Crypt: Dick Cheney Writes a Book
post by: Ray Duray October 31, 2013
Our very scary Halloween special.... featuring the resurrection of bloody-minded Dick Cheney:

The former VP has returned from the shadows – weirdly, to court the Tea Party for daughter Liz's Senate run. Happy Halloween!
by Ana Marie Cox
Rationally, I realize that the reappearance of Dick Cheney in the media landscape is tied to his promoting his new book, Heart: An American Medical Odyssey. And, with equal clear-mindedness, I know that his publisher no doubt timed the book's debut to capitalize on the roll-out of the Affordable Care Act – Cheney has gravely insisted in interviews that the ACA would limit the technological innovations that allow his own survival.
A more primal part of me simply sees "Cheney", "heart" and "Halloween" and I clutch my own chest in fear. [Continues at website...]


tags: dick cheney, ana marie cox, halloween | permalink | Show/Add Comments
---
Obamacare: N. Flim-flam, scam, con game
post by: Ray Duray October 30, 2013
Truthout.org has the story....


By
Kevin Zeese and Margaret Flowers
The Affordable Care Act (ACA), also called "Obamacare," may be the biggest insurance scam in history. The industries that profit from our current health care system wrote the legislation, heavily influenced the regulations and have received waivers exempting them from provisions in the law. This has all been done to protect and enhance their profits.
In the meantime, the health care crisis continues. Fewer people, even those with health insurance, can afford the health care they need because of out-of-pocket costs. The ACA continues that trend by pushing skimpy health plans with low coverage and restricted networks. [Continues at website...]

***
Ray again. Compare to the sensible single payer alternatives, including this from
Physicians For A National Health Program..
tags: obamacare, aca, kevin zeese, margaret flowers, banana republic, truthout.org | permalink | Show/Add Comments
---
Unmanned: America's Drone Wars
post by: Ray Duray October 29, 2013
Sign In for a free film:

On October 30th, 2013, you will receive a link to the email address you provide when you sign up to get the film for free. In the meantime please help us spread the word! Robert Greenwald and Brave New Foundation are on a mission to address the ineffective and immoral U.S. drone policy. With your help, we can share this film with enough people and unite to address this atrocity. [Learn more here.]

tags: drones, robert greenwald, brave new films | permalink | Show/Add Comments
---
How Occupy Began
post by: Ray Duray October 24, 2013
Thank You Anarchy, Notes From the Apocalypse is a new, brilliantly candid and detailed inside account of the Occupy Movement as it grew to natural prominence then was displaced by brutal police action around the nation...
Nathan Schneider, the author of "Thank You Anarchy," was covering the Occupy Movement from its origins. In his first chapter, reposted below, he chronicles the various threads of uprising that came together to become Occupy.
tags: truthout, ows, nathan schneider, nyc general assembly | permalink | Show/Add Comments
---
Russell Brand's Call For Revolution
post by: Ray Duray October 24, 2013
British comedian Russell Brand makes a serious pitch for Revolution in the New Statesman:


But before we change the world, we need to change the way we think.
When I was asked to edit an issue of the New Statesman I said yes because it was a beautiful woman asking me. I chose the subject of revolution because the New Statesman is a political magazine and imagining the overthrow of the current political system is the only way I can be enthused about politics.
When people talk about politics within the existing Westminster framework I feel a dull thud in my stomach and my eyes involuntarily glaze. Like when I'm conversing and the subject changes from me and moves on to another topic. I try to remain engaged but behind my eyes I am adrift in immediate nostalgia; "How happy I was earlier in this chat," I instantly think.I have never voted. Like most people I am utterly disenchanted by politics. Like most people I regard politicians as frauds and liars and the current political system as nothing more than a bureaucratic means for furthering the augmentation and advantages of economic elites. Billy Connolly said: "Don't vote, it encourages them," and, "The desire to be a politician should bar you for life from ever being one."
I don't vote because to me it seems like a tacit act of compliance; I know, I know my grandparents fought in two world wars (and one World Cup) so that I'd have the right to vote. Well, they were conned. As far as I'm concerned there is nothing to vote for. I feel it is a far more potent political act to completely renounce the current paradigm than to participate in even the most trivial and tokenistic manner, by obediently X-ing a little box.
Total revolution of consciousness and our entire social, political and economic system is what interests me, but that's not on the ballot.
Is utopian revolution possible? The freethinking social architect Buckminster Fuller said humanity now faces a choice: oblivion or utopia. We're inertly ambling towards oblivion, is utopia really an option? [
Continues at website....
]
tags: russell brand, new statesman, revolution | permalink | Show/Add Comments
---
Today's Tirade, Courtesy of Russell Brand
post by: Ray Duray October 24, 2013
See also:
Alternet
tags: russell brand, bbc hardtalk, jeremy paxman, revolution, voting, the 1% | permalink | Show/Add Comments
---
Medical Insurance: The Devil In The Details
post by: Ray Duray October 21, 2013
Kaiser Health News has the story. In brief, the Oregon website implementation of Obamacare is not functional at present. -RGD:

By Amy Snow Landa, The Seattle Times
PORTLAND — To get a glimpse of how the two-week-old health-insurance exchanges are faring under the Affordable Care Act, there may not be a better place to look than the Pacific Northwest and its striking contrasts.
On the one hand, the Washington state-run exchange, called Washington Healthplanfinder, is widely perceived to be off to a strong start.
Nearly 25,000 residents have enrolled in health-care coverage through Healthplanfinder over the exchange's first two weeks, according to figures released Monday by the Washington Health Benefit Exchange, which operates the exchange.
Compare that to Oregon, where state officials acknowledge not a single resident has been able to enroll through the website of that state's exchange, called Cover Oregon, because the site still is not fully functioning. [Continues at website...]

tags: kaiser health news, cover oregon, obamacare, affordable care act | permalink | Show/Add Comments
---
The Baffling Imcompetence of American Imperialism
post by: Ray Duray October 20, 2013
This concluding episode in a four-part Real News Network interview with historian Peter Kuznick really does get to the heart of the utter incompetence of the leadership of America, as presently structured. While this so-called leadership has grotesquely engorged itself financially, it has let the nation go to Hell. without handbaskets.

Perhaps it is time for America to come to its senses? And not in the way the Koch Brothers conceive the self-interest they promote via their Tea Party tontos utiles (useful idiots). -RGD
In the final episode of this series of Reality Asserts Itself with Paul Jay, historian Peter Kuznick analyzes the core idea of American exceptionalism, that US military power creates world order

Transcript available at website..
tags: banana republic, imperialism, militarism | permalink | Show/Add Comments
---